🔥FREE SHIPPING🔥 2022 New Version – Solar-Powered Bird Fountain Kit
📣The Best Gift You Should Get Form and Send to Your Friends /Family
Instantly Make Your Backyard A Relaxing Oasis!
Great for attracting birds, it makes a great feature in any pool, backyard, fish tank, pond, or existing birdbath.
Main Features
Runs automatically, no battery or electricity needed
Suitable for birdbaths, fish tank, small pond, garden decoration, water circulation for oxygen
Easy cleaning; easy reallocation, no plugs required, small and compact
Multiple fountain heads for different water patterns
Max. Water Height: 30 – 50 cm
8 x Accessories Included!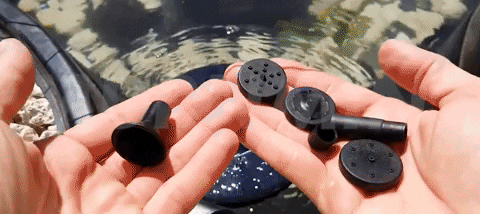 Upon delivery just let it absorb some sun and set it in whatever body of water you desire.
Performance is dependent on sunlight, although it does work in the shade or on a cloudy day, the strength of the fountain is optimal on a sunny day and in water with a depth that can keep the fountain submerged.
Note: Change the water occasionally to prevent dirt and clogging in your fountain!
PRODUCT INFORMATION
Diameter: 6.5 Inches
Color: Black
Weight: 260 Grams
PACKAGE CONTENTS
1 x Solar-Powered Bird Fountain
8 x Accessories